Children & Young People
Various events are aimed more specifically at children and young people.
Educational workshops
The educational workshops #MengChamber run by the 'Zentrum fir politesch Bildung' host groups of school children visiting the Chamber of Deputies. An interactive game (DemocraCity) simulates the planning of a city and allows children to better understand the decision-making processes with all the complexity of political challenges. It is also a chance to meet deputies, find their bearings in the city's 'political' quarter and visit the Chamber of Deputies buildings.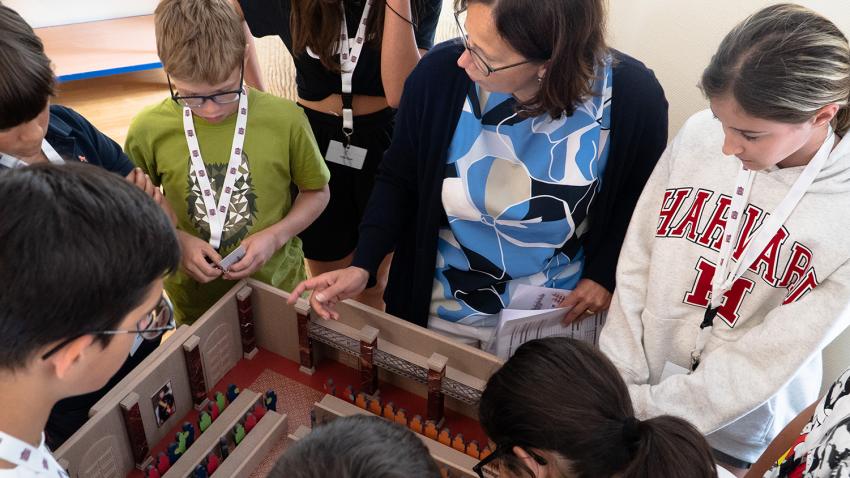 Tours
All year round, we host many school groups for a tour of the Chamber of Deputies. These tours must have at least 10 participants and are also aimed at adults.
"Zuch vun der Demokratie"
Each year, international children's rights day (20 November) is the day when the democracy train ('Zuch vun der Demokratie') comes to town.
Over a hundred children from all around the country take the train to the city to meet at the Chamber of Deputies. They present their ideas to the deputies, with whom they can exchange ideas during workshops as well as during the final meeting in the Chamber's plenary hall.
Educational videos
The Chamber of Deputies and the 'Zentrum fir politesch Bildung' (Centre for political Education) work together on citizenship education. Educational videos created with the help of the Script department of the Ministry of National Education explain how the Chamber works, as well as elections, laws, the constitution, citizen participation, democracy, and the European Union.
Parlement des Jeunes (Youth Parliament)
Des réunions du Parlement des Jeunes, en salle plénière de la Chambre des Députés, permettent un échange avec les députés.
Video: Parlement des Jeunes (Youth Parliament) 4 - 7 - 2022
Convention des Jeunes (Youth Convention)
La Convention des Jeunes se réunit régulièrement à la Chambre des Députés.
Workshops on various discussion topics are organised in the Chamber's premises and at the end of the day, the conclusions of these workshops are presented to the deputies. This is also an opportunity for young people and parliamentarians to exchange ideas.